BMW 5 Series E39: Performa Sedan Eropa yang Kaya Fitur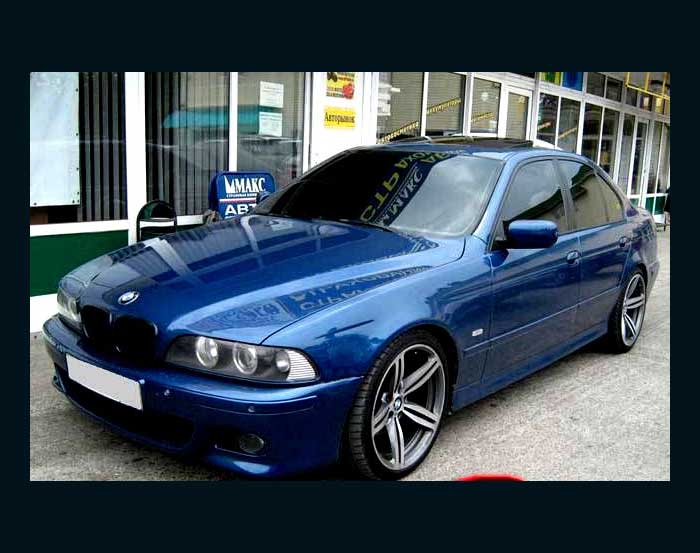 Bimmer.ID — BMW E39 merupakan bagian dari BMW seri 5 generasi keempat yang memiliki 2 model, yaitu sedan dan wagon. Penerus dari BMW 5 series E34 ini mulai diproduksi pada tahun 1995 hingga 2003 dan diperkenalkan di pasar Eropa sejak tahun pertama produksinya.
Tipe BMW E39 yang pertama kali masuk di Indonesia adalah tipe 523i dan 528i, yang masuk pada pertengahan tahun 1996.
Desain BMW E39
BMW E39 memiliki bodi yang lebih kuat dan berat dari model sebelumnya karena terbuat dari baja. Penggantian bahan bodi mobil bertujuan untuk melindungi penumpang dari cedera ketika terjadi benturan atau kecelakaan. Penggunaan baja ini tentunya menambah bobot mobil BMW. Oleh karenanya, BMW menggunakan komponen aluminium di suspensi depan untuk mengimbangi bobot dari bodi mobil.
Tahun 1998, mobil ini mengalami peningkatan fitur, dengan pemasangan airbag di depan dan di beberapa titik dalam kabin. BMW merupakan salah satu kendaraan pertama yang memiliki fitur airbag. Sedan mewah ini juga mengalami peningkatan pada power steering, rem ABS (anti-lock braking system), sistem pendingin udara, dan kontrol traksi. Memasuki tahun 2000, BMW seri 5 ini mengalami sedikit facelift pada desain dan mesinnya.
Beberapa komponen eksterior mobil yang mengalami perubahan, antara lain: lampu depan yang mengalami perubahan bentuk pada foglamp dan headlamp projector yang dikelilingi ring angel eyes. Bemper mobil juga diperbaharui. Perubahan lainnya terletak pada interior mobil yang serba elektrik, seperti tilt steering elektrik, sunroof elektrik, jok kulit, serta tirai elektrik.
Mesin BMW E39
Pertama kali diperkenalkan, BMW menggunakan mesin diesel inline M51 turbo-diesel. Meski pada tahun 1998, BMW memperkenalkan M57 sebagai pengganti M51, mesin ini masih tetap diproduksi hingga dua tahun. Pada tahun 1999, M47 turbo-diesel empat silinder digunakan pada BMW E39 model 520d.
Pada mesin bensin, M52 6 silinder dengan single VANOS adalah yang pertama digunakan. BMW E39 dengan tipe 523i menggunakan mesin berkode M52B25 yang dapat menghasilkan tenaga hingga 170 HP pada 5500 rpm, dan torsi 245 Nm pada 3500 rpm. Sedangkan tipe 528i, menggunakan mesin berkode M52B28 yang dapat menghasilkan tenaga 193 HP pada 5500 rpm, dan torsi 280 Nm pada 3500 rpm.
Untuk BMW E39 tipe M5, produksi tahun 1998-2003, sedan ini menggunakan mesin berkode S62B50 V8 dengan transmisi manual 6-speed. Mesin tersebut menghasilkan kekuatan sebesar 294 kW/ 394 hp pada 6.600 rpm, dengan torsi 500 Nm pada 3.800 rpm.
Saat facelift pada tahun 2000 dan 2001, BMW mengganti mesin M52 dan M54. Untuk meningkatkan torsi pada putaran rendah, terdapat perubahan teknis dari single VANOS menjadi double VANOS. Penggunaan mesin M54 pada BMW E39 tipe M20i, M25i, dan M30i menghasilkan performa yang lebih baik dan perawatan yang lebih mudah dibandingkan mesin sebelumnya. (Devie/ymn/Berbagai Sumber/Foto: CarsBase.com)
Baca juga: Tulisan lengkap tentang BMW 5 Series lainnya
Video The BMW 5 Series History. The Fourth Generation E39 | Tahun Produksi: 1995 – 2003
Foto Terbaru BMW 5 Series E39
Koleksi gambar dan video terbaik yang diposting oleh komunitas pecinta BMW E39 di seluruh dunia. Terkoneksi ke platform Instagram secara realtime dengan hastag #E39, #E39Mafia, dan #BMWe39.
(Klik Gambar untuk Info Selengkapnya)