BMW 5 Series G30: Sedan Bisnis Tersukses di Dunia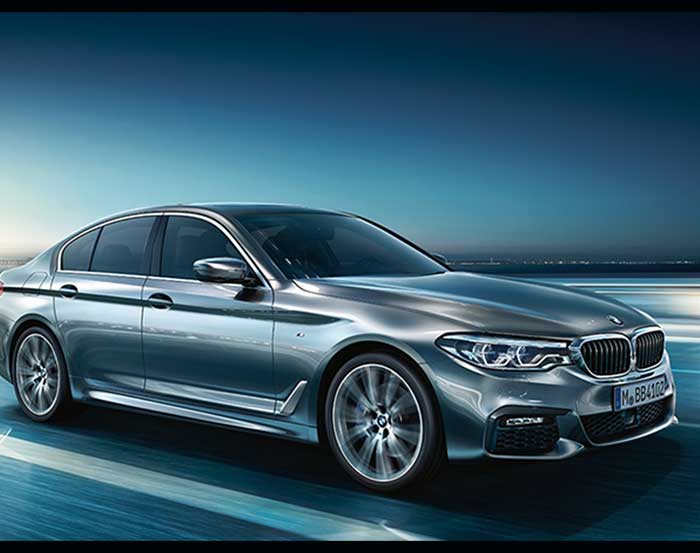 Bimmer.ID — Pada Oktober 2016, perusahaan otomotif BMW kembali meluncurkan sedan sporty baru, BMW G30. Generasi ketujuh dari seri 5 ini mulai diperkenalkan pada Januari 2017 di North American International Auto Show (NAIAS), Detroit.
Promosi BMW 5 Series G30 dikemas dalam film aksi pendek yang berjudul The Escape. Dalam film ini, BMW menampilkan tipe 540i M Sport sebagai tokoh utama. Bagaimana wajah BMW G30 ciptaan perusahaan otomotif Jerman ini? Simak spesifikasinya dalam artikel berikut.
Spesifikasi BWM G 30
Hadir dengan wajah baru. G30 tampak lebih mencolok dari seri sebelumnya. Sedan mewah ini dilengkapi dengan lampu LED standar dan stoplamp yang terinspirasi dari seri 7. Sasis yang mendukung seri 5 ini terdiri dari campuran aluminium dan baja. Begitu juga dengan bodi mobil yang sebagian besar terbuat dari aluminium, sehingga memiliki bobot yang lebih ringan, tetapi tetap aman.
Seri BMW G30 menggunakan 2 jenis suspensi, yaitu double-wishbone pada suspensi depan dan 5-link pada suspensi belakang. Pada sistem kemudi, seri ini tetap mengusung sistem rack and pinion steering yang dibantu tenaga listrik. Integral Active Steering juga digunakan pada tipe tersebut, dengan menggabungkan rasio kemudi variabel dan empat roda elektromekanis.
Untuk urusan mesin, BMW seri 5 ini memiliki beragam mesin bensin dan diesel turbocharged, tergantung modelnya masing-masing. Seperti 520i, 530i, 530e iPerformance, 540i, M550i xDrive, M5, M5 Competition. Pada model diesel 520d, dilengkapi dengan transmisi manual 6-speed. Sedangkan semua model lain, termasuk 520d xDrive, menggunakan transmisi otomatis ZF.

Fitur BMW G30
Mengusung fitur i-Drive yang sama seperti pendahulunya, fitur i-Drive pada G 30 diperbaharui dengan layar 10,25 inci yang memiliki resolusi lebih tinggi. Pengoperasian i-Drive juga telah didukung oleh gesture-control atau sistem layar sentuh. Heads-up display seri ini memiliki cakupan lebih luas hingga 70% serta lampu sorot yang dapat menjangkau ke atas hingga 500 meter.
BMW G30 juga dilengkapi dengan Driving Assistant Plus. Fitur self-parking ini dapat memberi peringatan tabrakan, baik untuk parkir secara paralel maupun lateral. Jadi, Anda tidak perlu khawatir sedan mewah ini akan lecet saat parkir.
Model Spesial: BMW G30 Tipe 530e
Jika Anda menginginkan BMW yang hemat bahan bakar dan ramah lingkungan, G 30 dengan varian plug-in hybrid adalah jawabannya. Tipe ini dijuluki sebagai 530e iPerformance. Powertrain pada seri tersebut menggunakan 181 hp mesin 2.0-liter inline-empat turbocharged dan motor listrik berdaya 111 hp. Penggabungan ini menghasilkan output sebesar 248 hp dan 420 Nm.
BMW 530e iPerformance dilengkapi dengan baterai lithium-ion 9,2 kWh. Baterai yang tertanam di bawah kursi belakang ini diklaim dapat menempuh jarak hingga 45 kilometer.
Kecepatan tertinggi yang dapat dicapai ketika kendaraan berada dalam mode penggerak listrik adalah 140 km/ jam (87 mph). Untuk mengisi daya baterai pada 530e iPerformance, dibutuhkan waktu sekitar 3 jam 50 menit agar terisi penuh.
BMW 5 Series G30 terdiri dari beberapa varian model, di antaranya model 4-door sedan/saloon (G30), 5-door estate/wagon (G31 atau 5 Series Touring), 4-door long-wheelbase sedan (G38, yang hanya dipasarkan di Tiongkok). (Devie/yollis/Berbagai Sumber/Foto: BMW/Driving.co.uk/Video: BMW)
Baca juga: Tulisan lengkap tentang BMW 5 Series lainnya
Video BMW 5 Series G30 | Tahun Produksi 2017 –
Foto Terbaru BMW 5 Series G30
Koleksi gambar dan video terbaik yang diposting oleh komunitas pecinta BMW G30 di seluruh dunia. Terkoneksi ke platform Instagram secara realtime dengan hastag #G30 dan #BMWG30.
(Klik Gambar untuk Info Selengkapnya)