Inilah Diler Terbaru BMW Motorrad di Puri Kembangan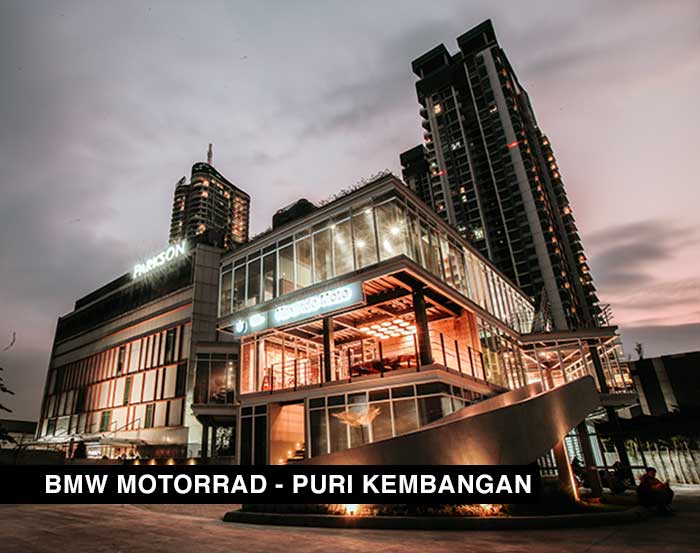 Bimmer.ID — Ada kabar gembira untuk Anda pengguna moge BMW di kawasan Jakarta Barat dan sekitarnya. Ya, BMW Motorrad Indonesia baru saja menambah sebuah diler baru, yang berlokasi di Jl. Kembang Kerep No.1, Kembangan Selatan, Jakarta, Barat.
Diler terbaru BMW Motorrad ini sangat memanjakan pengguna moge BMW untuk melakukan service, atau menjadi titik kumpul saat Sunmori dengan sesama bikers. Sejumlah fasilitas unik tersedia, di antaranya barbershop untuk pengunjung, pijat refleksi, hingga pembersih sepatu.
Menurut Joe Frans, CEO BMW Motorrad Indonesia, tema yang diusung berawal dari budaya populer yang sedang trending di kalangan anak muda. "BMW Motorrad, sebagai sebuah brand yang menampilkan gaya hidup, bukan hanya tentang memiliki sebuah kendaraan roda dua dengan logo premium, tetapi juga a motorcycle that comes with experience", ujar Joe.
Nyaman dan Modern
Memasuki ruang pamer, Anda akan disambut oleh tujuh moge BMW berbagai tipe, serta kafe yang menyediakan berbagai makanan dan minuman untuk pengunjung. Jaket, protektor, sarung tangan, dan aksesoris khas BMW Motorrad tersedia secara lengkap di area balkon.
Bengkel terletak di lantai dasar, yang memuat hingga empat stall dan diperkuat oleh tenaga mekanik berpengalaman dari BMW Motorrad. Di area ini juga terdapat gudang suku cadang yang lengkap.
Bagi pemula yang ingin memiliki moge BMW, namun belum memiliki skill dasar, jangan khawatir. Untuk membantu Anda, pihak BMW Motorrad melakukan pelatihan rutin sebulan sekali. Anda akan dibimbing oleh trainer yang berpengalaman.
Lokasi diler terbaru BMW Motorrad ini sangat strategis bagi Anda yang berdomisili di Jakarta Barat, Jakarta Utara, hingga Tangerang. Berdiri megah di atas lahan seluas 1.756 m2, dengan luas bangunan 1.100 m2, dan area parkir yang dapat menampung hingga 30 motor. (ymn/Foto: BMW Motorrad Indonesia)
Foto Terbaru Diler BMW Motorrad – Puri Kembangan
Baca juga: Info Lengkap Dealer BMW Motorrad Indonesia.